LARS ERIC MATTSSON - LET ME ROCK YOU 1984-87

Released in digital format on September 18, 2014.
15 Vocal and one instrumental track.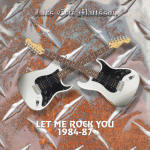 LET ME ROCK YOU (1984-87) is the sequel to HOT AND ABLE (1983-85), Lars' first album made up of his early songwriting but in newly recorded versions. LET ME ROCK YOU consists of 16 tracks of which the title track and "Take Me Home" were released on a single by his band ETERNITY in 1987. Most of the other tracks here were also performed by ETERNITY but never recorded properly as the band split up as Lars was offered a solo artist recording contract

.



01. Leave Me Alone
02. Crusaders
03. In Your Crystal Ball
04. Always Get Burned
05. Take Me Home
06. I am the Torch
07. Clowns
08. When It's Time for Me to Go
09. Witches Burning
10. Let Me Rock You
11. Kiss the Sky
12. Run From Yourself
13. Open Up Your Heart
14. Stormchild
15. The Final Poem
16. I Love to Rock


All vocals, guitars, bass, keyboards by Lars Eric Mattsson
Drums and percussion – Christer Jansson
Hammond Organ - Alexander King

All music and lyrics written by Lars Eric Mattsson between 1984-87.
Recorded and mixed at the New Lion's Cage March-May 2014.